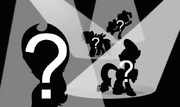 Dave Polsky is an American film writer and also writes episodes for My Little Pony: Friendship is Magic.
Early Life
Polsky was raised in Pittsburgh, Pennsylvania where he moved to Philadelphia later on his life in order to attend to University of Pennsylvania. After he graduated, he then moved to New York in order to seal his script writing career.
Credits
Other Credits
Other famous TV shows David Polsky writes for are Pokemon, Pucca, Rugrats, and South Park.
Polsky is also well know for writing the script of Scary Movie 2.
Ad blocker interference detected!
Wikia is a free-to-use site that makes money from advertising. We have a modified experience for viewers using ad blockers

Wikia is not accessible if you've made further modifications. Remove the custom ad blocker rule(s) and the page will load as expected.