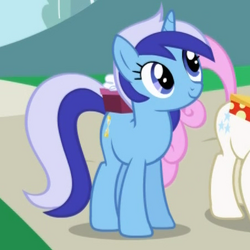 Minuette is a fan-based name given to a unicorn mare.
Description
Minuette is a female
Unicorn pony
with periwinkle mane with pigment blue streak, maya blue coat and steel blue eyes, and has a 
cutie mark
 of an hourglass. Minuette's name comes from the fact that her mane/hair looks like toothpaste. Her alternate names are Romana, Minty Fresh, TARDIE,jenne and colgate. She share her design with Sea Swirl. She has a speaking role in
A Canterlot Wedding, Part 1
, speaks in unison with Twinkleshine and
Lyra
 in
A Canterlot Wedding, Part 2
, and mouth the word "muffins" along with other ponies in
Applebuck Season
. Her name is the femine form of "minuet", a 17th century French dance.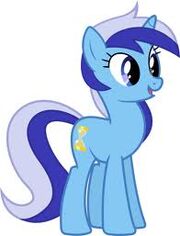 Appearances
Minuette appear as a background pony.Minuette made her debut appearance in Friendship is Magic, Part 1. She is seen in the backgound of many episodes including A Canterlot Wedding, Part 2.